Fremont, CA, USA - Blackmagic Design today announced that GRENKE Spain, a leading technology leasing company, is producing original corporate content using a multicamera live production workflow based on Blackmagic URSA Broadcast G2 and Blackmagic Studio Camera 4K Pro cameras.
The GRENKE Spain team, with headquarters in Madrid, and the creative advertising agency Super-Web turned to EVT Productions to design and produce the company's broadcast style hybrid events.
"Hybrid is now the new norm for corporations looking to connect with partners, customers and employees," begins Carlos Morata, technical director at EVT. "The potential is huge. However, producing an experience that transcends the physical isn't without its creative and technical challenges."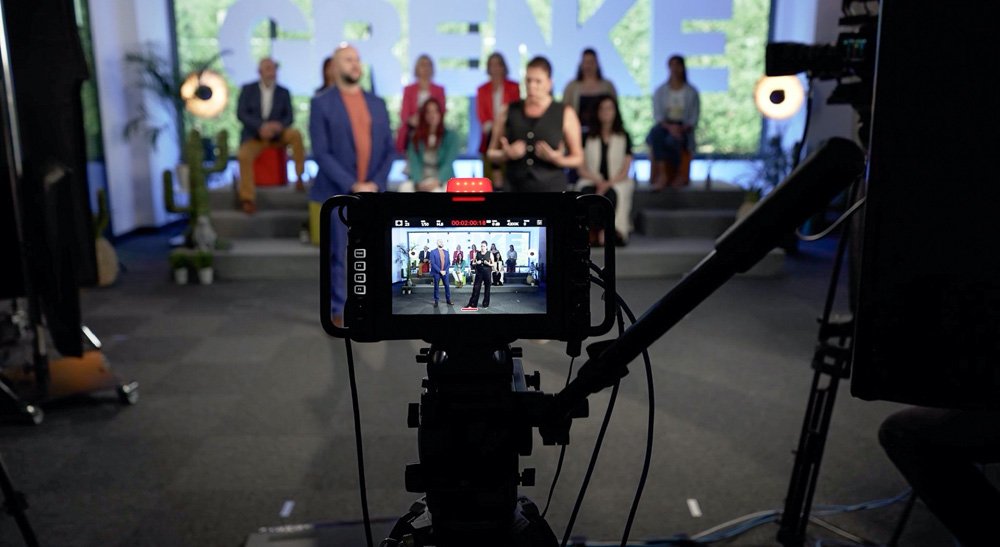 Each event is produced on an ATEM Television Studio Pro 4K live production switcher temporarily placed in a nearby meeting room, with the program (PGM) then taken out to YouTube in 1080p through VMix using a DeckLink 8K Pro capture and playback card.
Two DeckLink Mini Monitor 4Ks are used to monitor the streaming output from VMix, with a couple of additional DeckLink Mini Recorder 4Ks used to mix the chroma key signals.
"Chroma keying feeds from the cameras with background graphics is very intuitive," says Morata. "In one instance, we filmed two guests enjoying their coffee at a small table in the green screen area, and then with just a few adjustments, we overlaid the background of a famous square in Madrid as the event was happening."
Acquisition in the main studio typically employs a three camera setup, incorporating two URSA Broadcast G2s and a Blackmagic Studio Camera 4K Pro. "We position the two URSAs left and right of the set, with the studio camera providing a wide shot. The separate green screen studio features two Blackmagic 4K studio cameras," notes Morata.
"As the location did not benefit from natural lighting, we introduced a series of FalconEyes LED light panels at each side of the set to help. And while I was concerned that we might end up with underexposed images, the additional lighting and the studio cameras' dual native ISO helped us achieve clean results and very smooth skin tones," he adds.
All camera positions are remotely monitored over SDI via an ATEM Camera Control Panel with multiple HyperDeck Studio HD Mini broadcast decks used to record the HD stream and switcher's PGM out. Likewise, all camera ISOs are recorded in camera using Blackmagic RAW.
"The ability to hand off camera original media after a live production is invaluable as it allows Super to produce highlight packages and recap videos at the highest quality possible," explains Morata.
"Upgrading our workflow with acquisition technology from Blackmagic Design means we now have a powerful technical footprint," concludes Morata. "Not only does it ensure we can deliver broadcast worthy 4K content in a host of formats, but it also guarantees that we can continue to support the creative ambition of our clients, whatever they might be."