Fremont, CA, USA - Blackmagic Design today announced that the music video for smash hit song "Habit" by SEKAI NO OWARI was graded with DaVinci Resolve Studio using DaVinci Resolve Mini Panel. The song, which were played on Tiktok more than 2.4 billion times and its music video were played more than 100 millions times on YouTube in five months, was also shot using Blackmagic Design's Video Assist 7' 12G HDR monitor and recorder while shooting the music video.
"Habit" speaks to young people to tell them to not categorize themselves and only live in that category. The band wanted to encourage young people to abandon such bad habits and live their lives in their own way.
In the music video, band members are dressed as teachers and professional dancers are dressed as students, with everyone performing a unique dance, which has become its own sensation called the "Habit dance."
The video was shot by cinematographer Koretaka Kamiike and was graded by Hajime Kato from Tokyo's is' eye inc. using DaVinci Resolve Studio and a DaVinci Resolve Mini Panel. "I have worked as a director/editor, and I met Koretaka for a project I directed. Then, I helped Koretaka with the grading for a music video he shot, which led to dozens of grading jobs, and now I am working more as a colorist," said Kato.
Kamiike said: "Kato's studio is a place where we take time and work together to develop and create our best looks. Since we started working together, we did many experimental approaches to color, and now he immediately understands what I want to do, so I feel comfortable working with him. Plus, we can try challenging things together."
Kamiike used the Video Assist 7" 12G HDR on set for the music video. "I bring the Video Assist with me every time I shoot as it is compact and lightweight. The playback response of the Video Assist is very fast, and it can be used intuitively, so I can ask my assistant or production staff to operate it. It also gives me many codec options for recording, and I like that it supports SD cards," said Kamiike.
Kato spoke about the look of the "Habit" music video. "Koretaka and I created a more film look first by adding grains, but then when the director joined, we decided to give a more modern feel by creating a digital look without grains," he said.
Kato continued: "To express introverted and extroverted feelings in the lyrics, I changed the grading by scenes. For the introvert scenes, I graded the scene darker yet tried to retain the detail in shadow. I also added blue tint in midtone to highlight an area in several scenes but changed the amount of the blue tint in each scene. DaVinci Resolve Studio allowed me to easily adjust the intensity of my grade by node. I also use Resolve's magic mask often when grading and used the tool to adjust the color of the wall and the band members."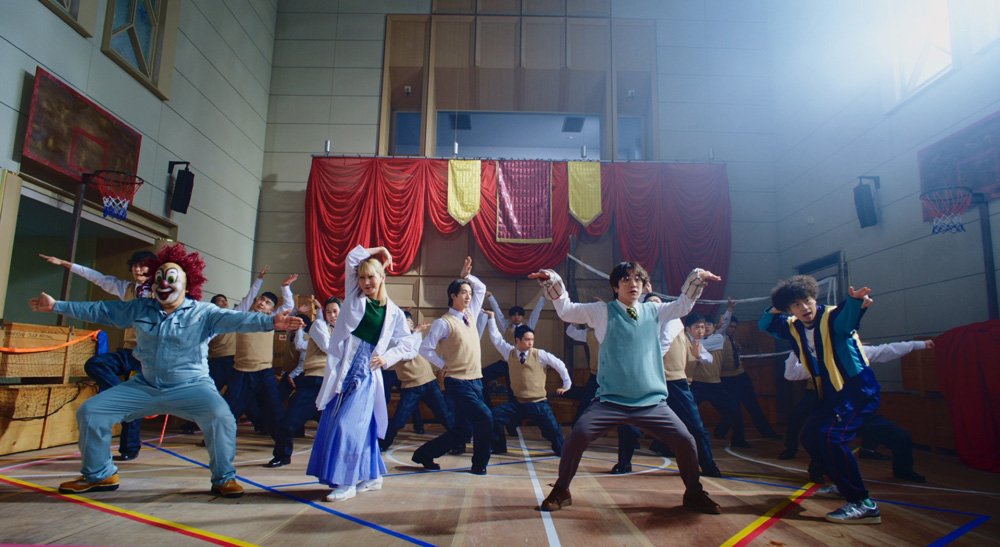 "The classroom scene was challenging," said Kamiike. "We could not handle the lighting, as it would be seen in the frame. It would be great if I could have shot in the best shooting conditions, but that is not always the case. In such situations, I borrow the power of DaVinci Resolve and shoot while thinking that I can improve this scene with grading using Power Windows."
The music video went viral on social media due to the combination of its music and dance, which led one of the top YouTubers, HIKAKIN, to create a collaboration video. The video was made to look exactly like the original version and was also graded by Kato.
"As it was shot on a different camera and at a different location, it was actually hard to match to the original look, but with DaVinci Resolve, I managed to get a close look to the original," Kato said.
Kamiike commented on DaVinci Resolve Studio: "DaVinci Resolve is a life saver tool when you need help, but it is more than that. It constantly adds new features that push us to create better works."
"DaVinci Resolve definitely makes your work more refined," added Kato. "It allows me to control colors the way I envision them."