RECKEEN 3DSPro - 4K, 12G-SDI Virtual Studio Workstation
Reckeen 3D Studio &LITE 3DSPRO Virtual 3D studio 4K with Profi 4xSDI and Genlock
inputs card with LITE License with ADB 100 and VKey100 + 4x 3DMultiCamera + 4xDoF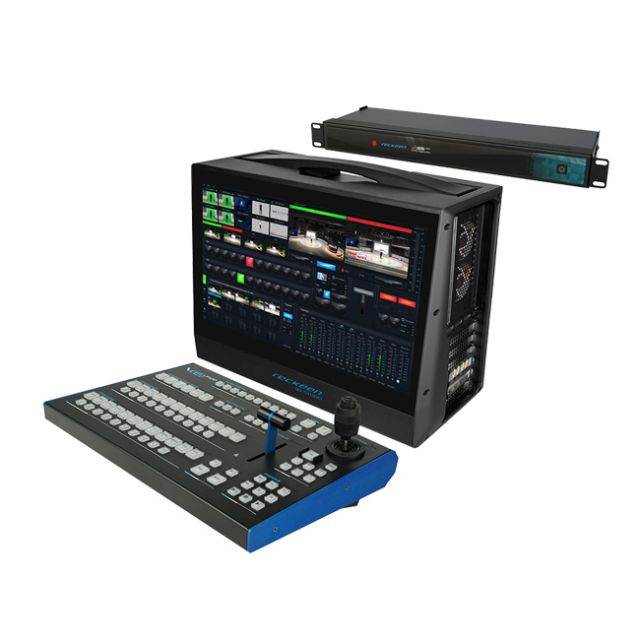 RECKEEN 3D Studio
PORTABLE - Powerhouse
Edge D100
Reckeen 3D Studio &LITE PORTABLE Virtual 3D studio 4K with 2xSDI and 2xHDMI
inputs card with LITE License in Portable Live Production Case, 17" Screen with ADB 100
and VKey100
NEXT GENERATION OF 3D MULTICAMERA PRODUCTION SYSTEM
RECKEEN 3DSPro is an all-rounded product that will cover all of your broadcasting needs – starting from creating and designing your virtual scenography, through producing your 3D TV content, to mixing and broadcasting the material in real-time.
Free scenographies of different styles, library of 3D objects, various editors and creators – those are just a few of the things that come with Reckeen system by default. All that, and much more, is backed by the hardware of the highest quality.
If you are not familiar with virtual 3D studio systems – we invite you to a world of new possibilities. With our solution your TV content will be unique and professional, and its creation process easy and fun.
ALL NECESSARY TOOLS TO PRODUCE 3D TV CONTENT
RECKEEN 3DSPro package contains all necessary tools and applications to produce 3D video content, perfect for TV stations, Youtubers, Twitch, Mixer and other broadcasters, e-learning and education facilities, or for producing corporate materials.
The system has been created for people who value the highest quality and technological innovation, but also ease of use and convenience. RECKEEN 3DSPro performs amazingly in various environments – from professional TV studios to home productions. It is designed to fulfil the demand of any company, as the production can be performed by just a single person.
A 3D virtual studio system creates an illusion that the production is made in a spacious studio and with use of multiple cameras, when in reality it can be created on a small green screen and with as little as only one physical camera. RECKEEN 3DSPro system is equipped with four independent virtual cameras which give you freedom to move around the whole virtual set at any angle without limitations, with a use of smooth and complex-looking transitions, as well as by manual operations, that imitate a camera crane and cameraman natural movements. Virtual studio provides you with space to hold all kind of presentations, with a use of 3D graphics, animations and other media. All that, along with any editing is done and generated in real-time, without extra rendering time.
RECKEEN 3DSPro system is equipped with 4 Virtual Cameras with a full range of motions available to reflect natural camera movements made by a cameraman: pan, tilt, zoom, dolly, truck, arc, pedestal, and so on. They can be rotated, have their angles and positions changed, giving you access to all areas of the set.
It is possible to assign up to 15 camera shots to each of the virtual camera, giving us 60 camera shots in total. These shots define different positions of the camera around a virtual studio. The transitions between the shots imitate a camera crane or track slider movements, and all of the parameters can be edit and customised fit your needs.
You can swiftly navigate between the virtual cameras and the shots from the production screen.
The fundamental part of a virtual studio configuration is selecting sources. Our main sources are video inputs from cameras – that way we can add a talent to our virtual studio. Such signal is sent to Chroma keying function. The purpose of chroma keying is to remove green or blue colour background, and be able to place a talent in a virtual studio.
Other sources may include media files such as videos, still images, or slide presentations, that you wish to display on a virtual screen inside a 3D studio.
RECKEEN 3DSPro comes in with ADB-100 external audio panel, which fulfils the highest audio requirements. Moreover, the system is equipped with a built-in audio mixer, that allows you to mix signal levels for all of the inputs – from cameras and microphones, as well as media and audio files.
Output signal can be adjusted and managed, as well as recorded straight from the broadcasted material.
The mixer is also equipped with a Follow function, which automatically synchronizes an audio source with an input that's being aired, avoiding situations when microphones, or other audio sources, are forgotten to be turned on or off in the correct times.
Media tray stores all of your media files: videos, audio files, pictures, and texts, in one organized place, that is divided into tabs. The shortcuts make navigating between the tabs easy and efficient, which is extremely important during a production process.
NewTek's innovative Network Device Interface technology enables compatible systems, devices, and applications to connect and communicate over IP to share video, audio, and data.
RECKEEN 3DSPro system offers 6 NDI inputs for cameras and Media. Camera inputs include supported stream key and RECKEEN chroma key.
The system also includes an NDI output, which allows Program output to be broadcasted using NDI technology.
CONNECT UP TO 4 INDEPENDENT CAMERAS
RECKEEN 3DSPro system has 4 camera inputs, up to 4K format. It allows you to have up to two 4K or up to four Full HD camcorders connected to the RECKEEN's workstation. Their signals are keyed independently in a high quality, thanks to four independent chroma key channels. Multiple inputs allow a user to make more complex productions with numerous talents filmed on different greenscreens, and also in different locations – if using an NDI connection.
Use a multi camera setup for more active and detailed production
This feature allows you for a multiple-camera mode of production with up to 4 cameras. It is especially useful during interviews, and other scenarios where there is a need for more than one camera setup. Generally, the two outer cameras shoot close-up shots of the characters on the set, while the central camera, or cameras, shoot a wider master shot to capture the whole scene and establish the geography of the virtual studio.
This feature strikingly resembles a tracking system. It is, however, completely trackless, and the execution of the effect is achieved by intelligently placing the virtual cameras in the correct positions in a 3D studio. This feature saves you money, and at the same time gives you results of an advance tracking system.
STILL EDITOR & NewBlue™ TITLERS
Create text panels and graphic compositions. Edit the text during broadcast
Our Still Editor application allows you to create text panels and aesthetically impressive compositions in the form of graphic files with images and texts, such as news tickers. Texts can also be edited during broadcast, in real-time, without the need to go back to the application – this way you can place a text panel with a new content live on-air immediately.
For even more impressive text panels, we've partnered with NewBlue® – their titling solutions will not only stun your audience and bring your production to the next level, but will bring more efficiency and into your work, and improve workflow. You can now connect NewBlue® products with RECKEEN 3DSPro via NDI connection – an easy way to amazing results!
3D Studio Wizard is an easy way to create your own, unique 3D scenography or a TV set using step-by-step guided application. Our free, rich in content and still growing library of 3D objects and decorations currently has over 700 items. Each item can be modified by changing texture and colour, which increases its creative potential even further. If that's not enough, you can always import objects from any external graphic software, such as Maya, Blender, 3D Studio Max or Cinema 4D, or Microsoft Paint 3D, that is preinstalled at the RECKEEN system. The structure of 3D Studio Wizard allows even novice users to easily create 3D studios from scratch, providing you with unlimited possibilities to unleash your creativity, without spending a dime, because 3D Studio Wizard comes with our system completely for free!
RECKEEN LITE a 2D virtual studio system, that includes high quality hardware combined with smart, efficient and easy-to-use software. The combination of quality and durability of the product with reasonable price point makes it perfect for novice broadcasters who strive for great results, innovative education facilities that want to incorporate technology into teaching and learning, for creating corporate materials and different kinds of presentations, and for all creative people who produce videos and TV content and aim for impressive outcome.
This complete workstation, together with pre-installed software, allows you to create, produce and broadcast material filmed on a green screen. Thanks to high quality, professional chroma key, the system can extract objects and persons from the green background and place them in a virtual set or scenography. Recording in a small, plain room is not a problem anymore! Using our virtual studio, your space can appear much bigger and more impressive. Add your desired media, graphics, text, logos and more, to create engaging, memorable and captivating content.
Intuitive switcher, easy-to-use application, and many automation functions, make this product perfect for inexperienced users, and for those who work alone – this system makes it possible to create, produce and broadcast your content completely on your own.
All that and much more come with this budget-friendly system – RECKEEN Lite
Production module of the RECKEEN LITE system provides a user with all tools needed for live program production.
The application has a clear layout, with all main features displayed on the main screen. Often, productions require performing multiple operations nearly simultaneously, and that's why RECKEEN LITE production application has been made to make your workflow the most efficient and easy.
Our Still Editor application allows you to create text panels and aesthetically impressive compositions in the form of graphic files with images and texts, such as news tickers. Texts can also be edited during broadcast, in real-time, without the need to go back to the application – this way you can place a text panel with a new content live on-air immediately.
With its help, you can easily create your own virtual studio or scenography. Using this intuitive application, everyone can create a unique design, tailored to individual needs and liking. The editor is provided within the RECKEEN Lite software, but it's also a stand-alone software, available for free!
External audio panel for the best sound quality and extended audio possibilities
AudioLink interface with a use of RJ-45 cable, this technology enables transferring all inputs and outputs stream to greater distances. The sound transferred digitally from ADB-100 device through RJ-45 connector maintains the highest quality and is noise-free thanks to galvanic isolation.
Equipped with AES3 digital audio standard inputs and outputs
Equipped with professionally balanced stereo analogue audio differential inputs and outputs