Switchblade - Turnkey vMix solutions for broadcast, with Broadcast and Streaming class
Switchblade LIVE PRODUCTION UNIT M9 / M9 Pro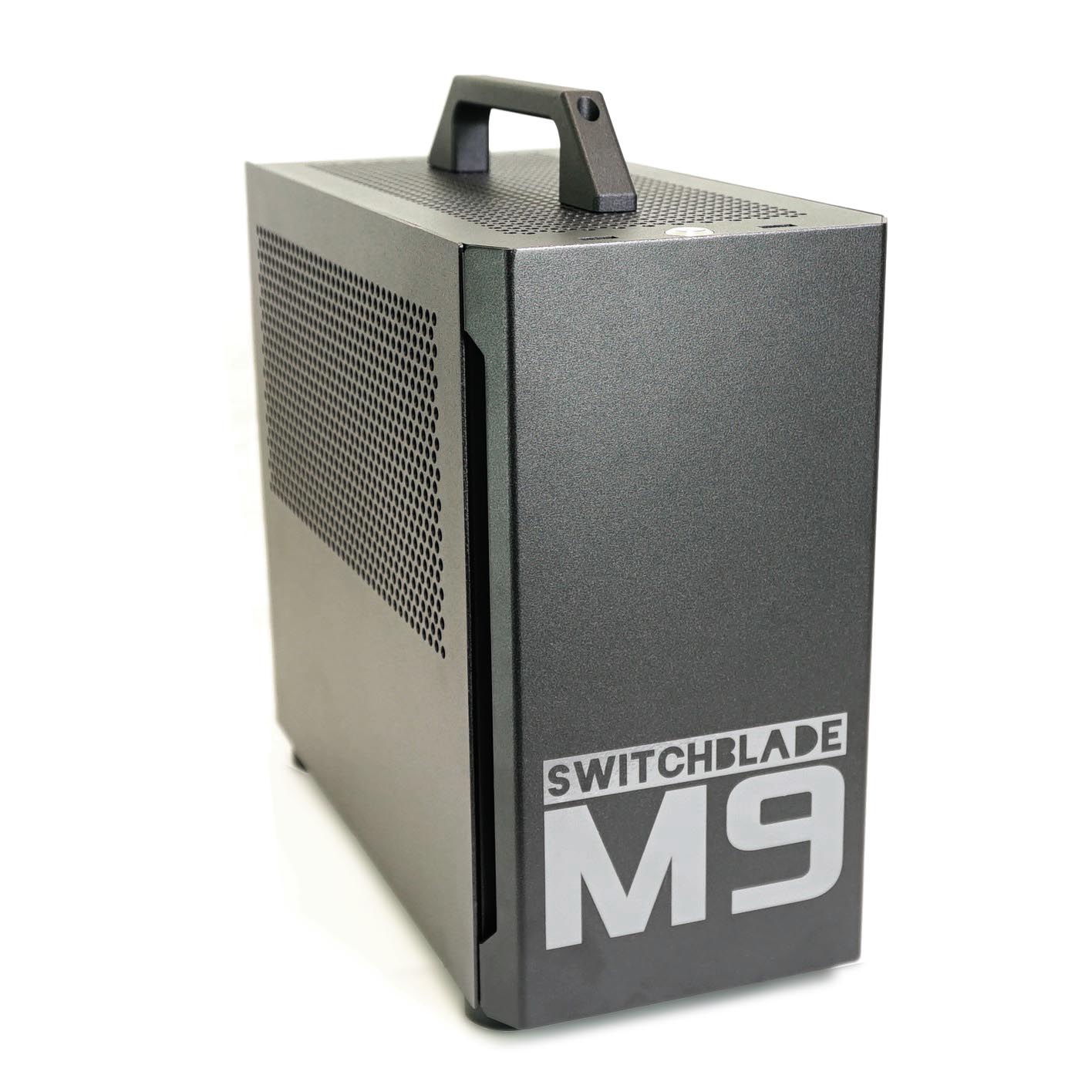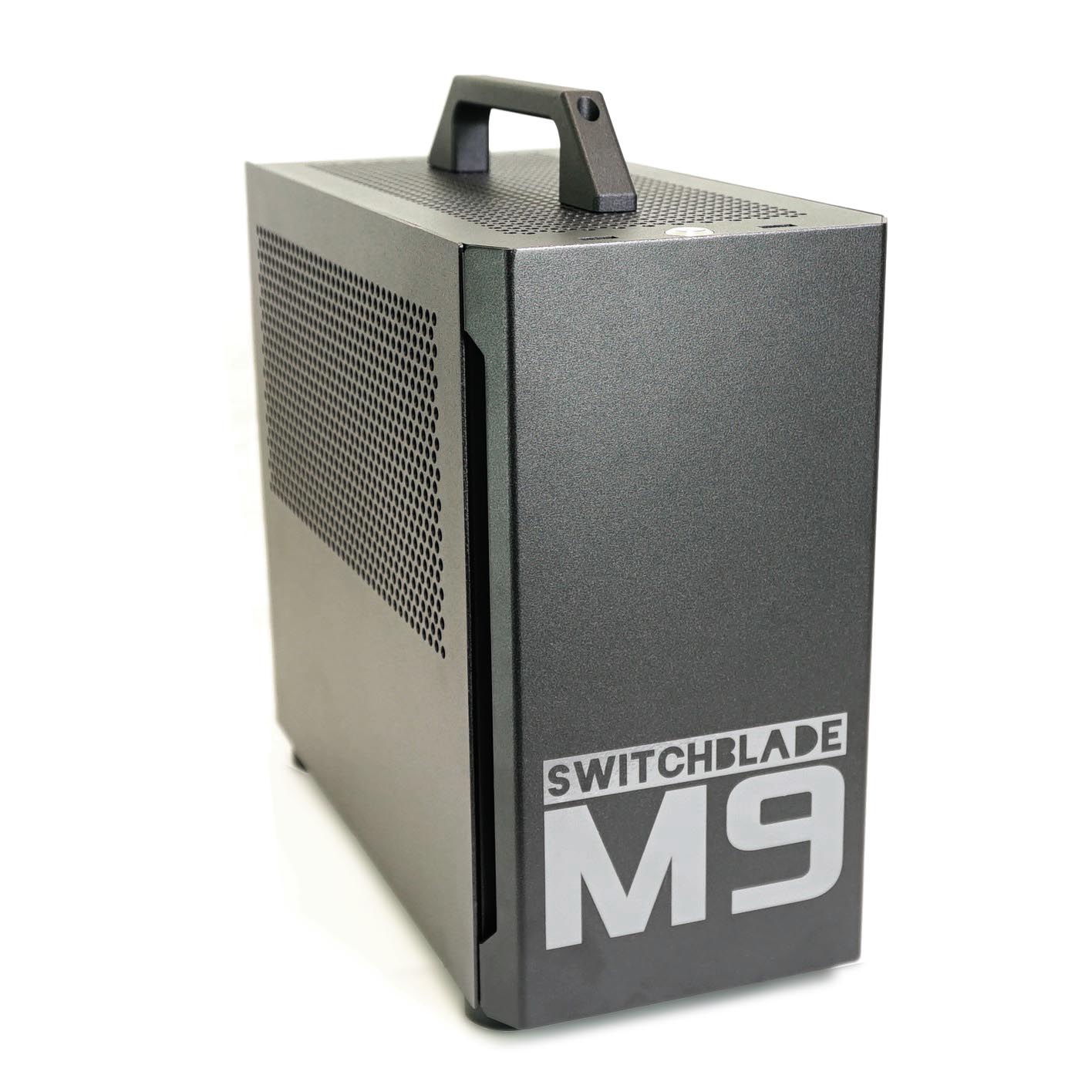 Processor

6-core Intel Core i5

8-core Intel Core i7

Graphics

NVIDIA GeForce GTX series,
6GB VRAM

NVIDIA GeForce RTX series,
12GB VRAM

Video Inputs

Four (4) HDMI 1.4 or 3G-SDI inputs
Expandable up to (8) SDI inputs

Audio Inputs/Outputs

3.5mm (1/8″) stereo line-in / line-out / microphone-in

Professional 2-channel stereo 1/4″ TRS analog inputs and outputs (4-in/4-out)

Storage

1TB NVMe PCIe Solid State Drive (SSD)

Networking

2.5Gbps Ethernet, Wi-Fi 6

Dimensions

319mm x 172mm x 358mm

Software Version

vMix HD

vMix 4K

(Upgradeable to vMix Pro)

Max Input Resolution

1920 x 1080

4096 x 2160

Graphic Overlays

4

4

Recorder

1 channel recording

2 channel recording

Streaming Outputs

3 RTMP streaming outputs (Facebook, YouTube, custom URL)

NDI Inputs

Unlimited inputs (depending on video and project settings)

NDI Outputs

1

4

SRT Inputs

Unlimited inputs (depending on video and project settings)

SRT Outputs

1

4

Fullscreen Output

1

2

External Output

1

4

Virtual Sets

Built-in and customizable virtual sets with full motion zoom and high-quality chroma keying

Titling Software Included (All Versions)

GT Designer Standard – Includes 100+ Built-In Animated Titles, Scoreboards, Tickers

Titling Software Included (vMix 4K & Higher)

N/A

GT Designer Advanced – Build custom animated titles, including using layered Adobe PSD files

Playlist

Switch between multiple live inputs or prerecorded videos without manual intervention.

Video List

Create playlists of video files to play in sequence – a great way to stream prerecorded content when your event is offline.

Remote Callers (vMix call)

1 caller

4 callers

Color Correction

Professional color correction on every input, including lift, gamma, gain, luminance, hue, saturation with real-time vectorscope monitoring.
Switchblade LIVE PRODUCTION UNIT (LPU)
3U Rack Production Switcher
Switchblade LPU3 win Control Surface
16 SDI Inputs 3G/12G IO
2 XLR Inputs / 2 XLR Outputs
2 10gig SFP for demanding NDI applications
2 1 gig Ethernet for streaming and control
2 Hotswap SSD bays
10 USB 3.1 / USB 3.2 / USB C
4 Displayport for UI, Program, Preview, or Multiview
NYX - 10900X 10-Core, RTX A4000
ARCHON - 10980XE 18-CORE, RTX A5000
AION - 10980XE 18-CORE, RTX A5000, XC8 Replay Cpntroller 2TB SSD
M9 Portable Live Production System Powered By vMix
Skaarhoj's control surface does more than mix, it can control PTZ presets and much more.
We connect two Splyce in a 4 input SDI Switcher.
Amazing features for any production.
---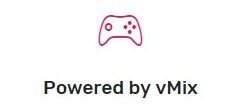 Award-winning real-time switcher software for mixing: cameras, video, replays, remote interviews, and encoding.
TV studios are moving away from SDI infrastructure to save costs and increase flexibility. Each Switchblade system can encode and decode NDI.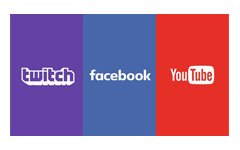 Via API, RTMP, or UVC as well as YouTube, Twitch, or even any trio of platforms in different resolutions.
---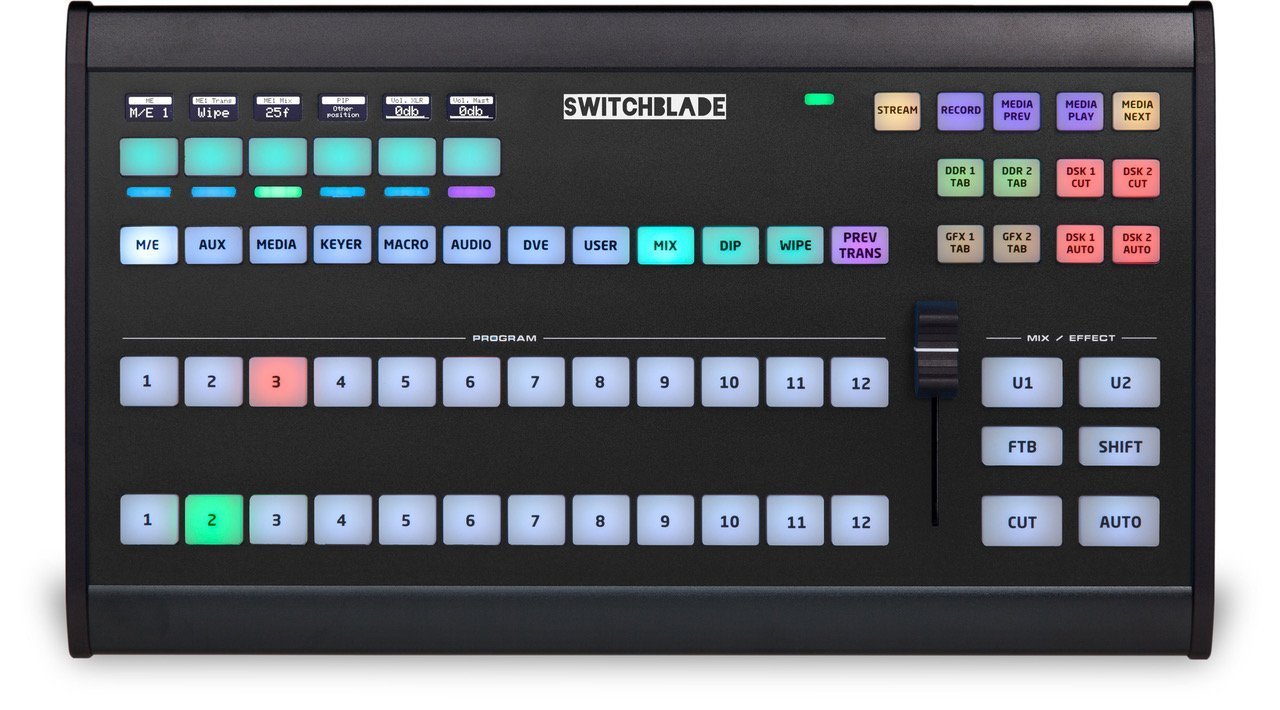 Switchblade systems are compatible with a wide range of control surfaces, including Skaarhoj, MIDI and USB Keyboard devices.
With NewBlueFX Titler Live, you get live templates and Complete gives you real-time power for social, sports and presentations.
---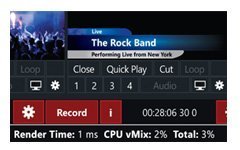 Most production systems are limited in terms of the number of inputs, video players, graphics channels, and storage. Switchblade systems are flexible to meet those needs.