Professional Live Video Streaming Made Easy
NextComputing combines specially-designed hardware platforms with Livestream Studio live production switcher software for turnkey end-to-end live video streaming. The result is the most versatile, powerful, all-in-one solution for professional quality live video production. Input multiple feeds, add graphics, master audio, and stream in one robust, easy-to-use package.
---
---
An easy-to-use, reliable, compact (only 11 inches wide) switcher and encoder with mighty processing power.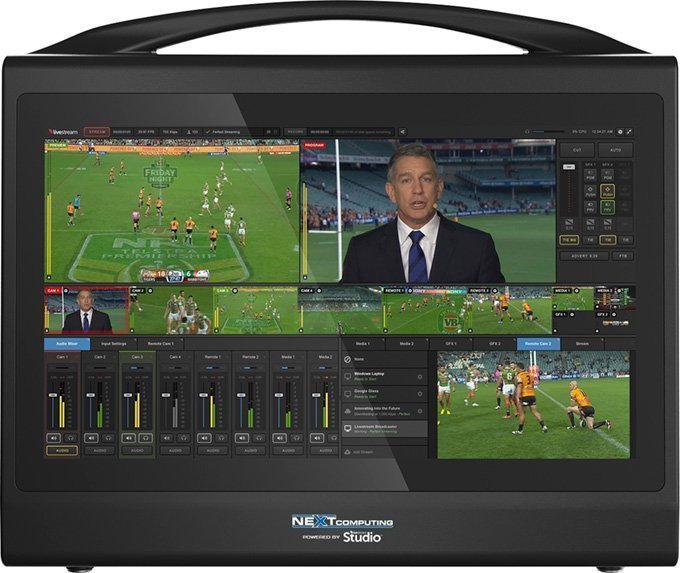 Easy to set up wherever your event may be. Arrive on-site ready for a full multi-camera production.
---
---
---
This rackmount system is the perfect combination of powerful, simple and affordable.
---
 Is an all-in-one, rack-mountable switcher with options for 8, 12, or 16 SDI inputs or combinations of SDI and HDMI inputs.
---
A portable solution for the most essential video switching, graphics controls, and transitions.
---
---
---
The Most Versatile Live Switcher
Connect any type of wired camera
---
Up to 25 SDI and HDMI connections supported
Choose from a range of wireless & remote cameras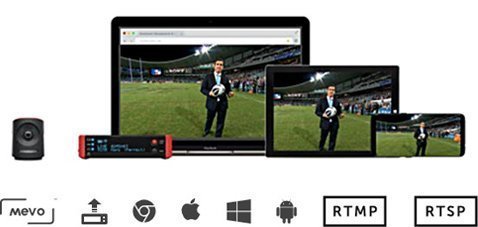 Up to 10 remote video/audio sources from local WiFi or Ethernet network, downlinking web streams, and remote interviews via WebRTC.
---
Control any PTZ camera over NDI or VISCA protocol. Set up to 5 camera preset positions per camera.
Frame-accurate live switching and compositing, up to 4K
Graphics, media, transitions and everything you need from a world-class production switcher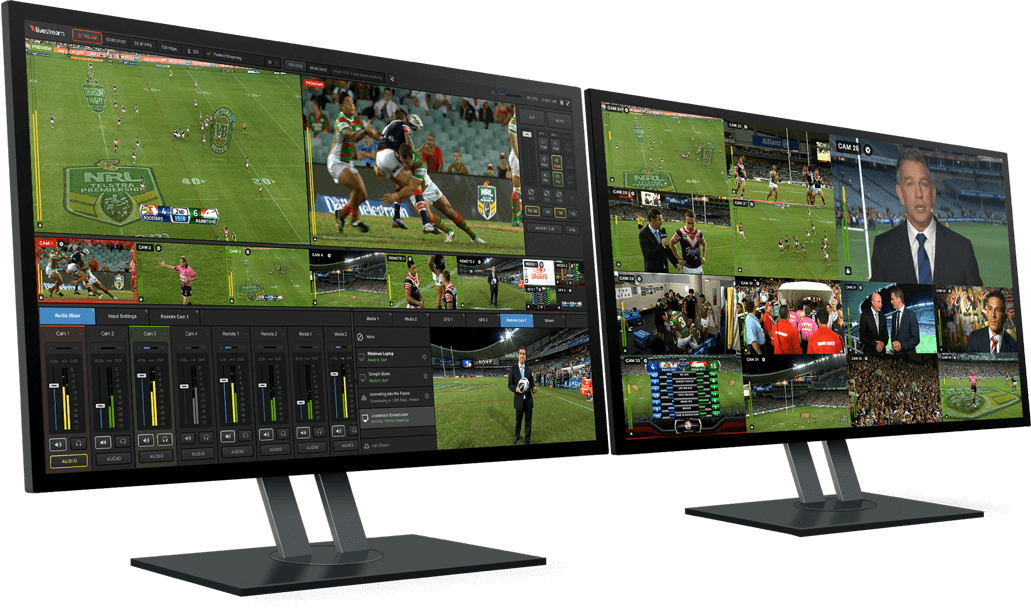 Broadcast quality video output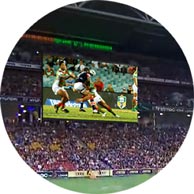 Stream live to multiple destinations
Stream directly to your preferred platform or to multiple platforms with Livestream/Vimeo cloud simulcasting (requires paid Vimeo subscription).

---
Up to 25 NDI inputs
Up to 5 NDI outputs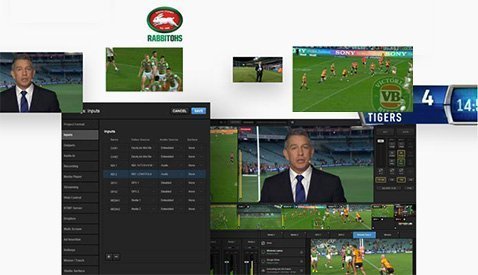 ---
Create custom multi-channel layouts and send to multiple monitors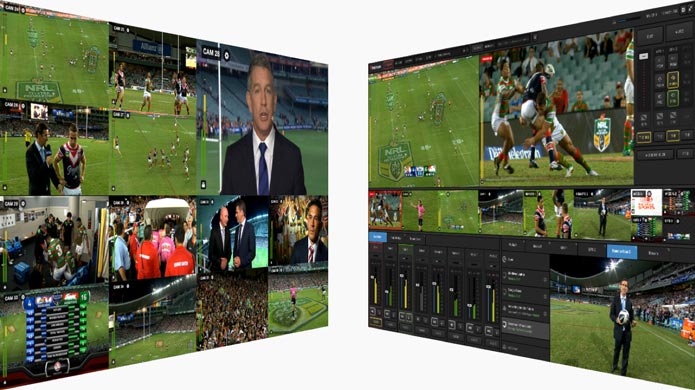 ---
Stinger, Dip to Color, SMPTE
Powerful, Layered Broadcast Graphics
3 independent GFX channels
2 color bar/background color channels
Add picture-in-picture from live inputs or media player sources
Apply in the mix or as a downstream overlay
Built-in chroma key on any source: Remove green-screen backdrops to add virtual sets into your productions
---
---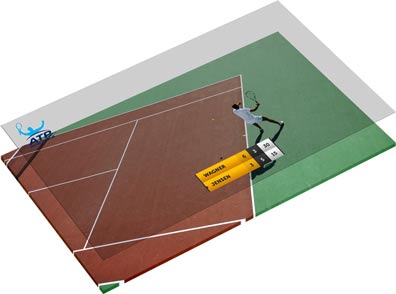 ---
Data-Driven Graphics: Connect multiple local or external data sources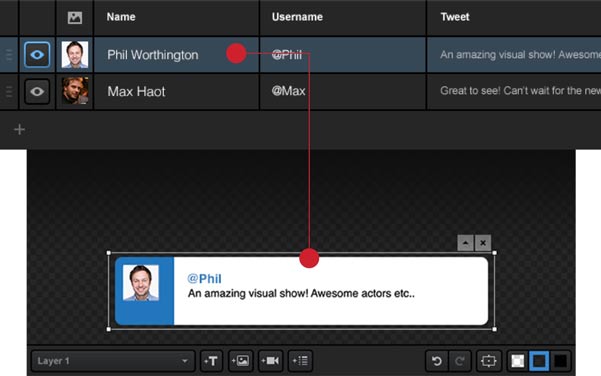 ---
---
---
Remote Control via a Browser UI
Control Studio from any location over a local area network (LAN) or internet connection.
Multiple users can control a single Studio system, each with unique controls/roles (i.e. switch, graphics, media playback, etc.).
Multiple Studio systems can be controlled from one device.
---
Multiple, Simultaneous ISO Recordings
Up to 4 simultaneous isolated source recordings.
MJPEG with uncompressed audio or 1 MP4 Recording with AAC audio compression.
Interlacing and timecode support.
Full compatibility with Blackmagic Design Media Express and Adobe Premiere.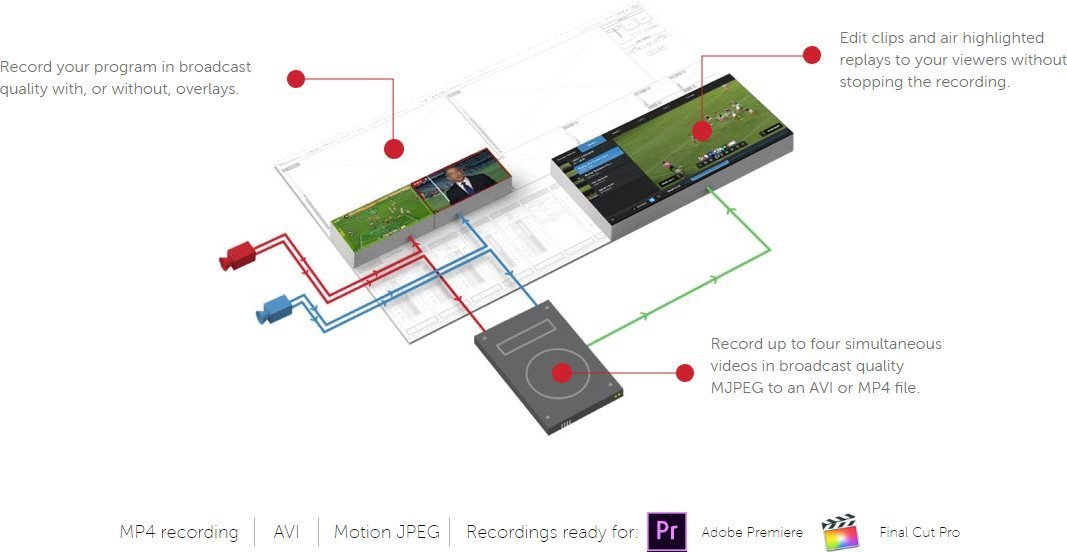 ---
Frame-accurate Media Playback
2 Media Players – Eject/Load clip. Play Pause/stop. Audio/Video Scrubber. Timecode indicator. Seek to timecode. Mark In/Mark Out. Loop. Auto-play on transition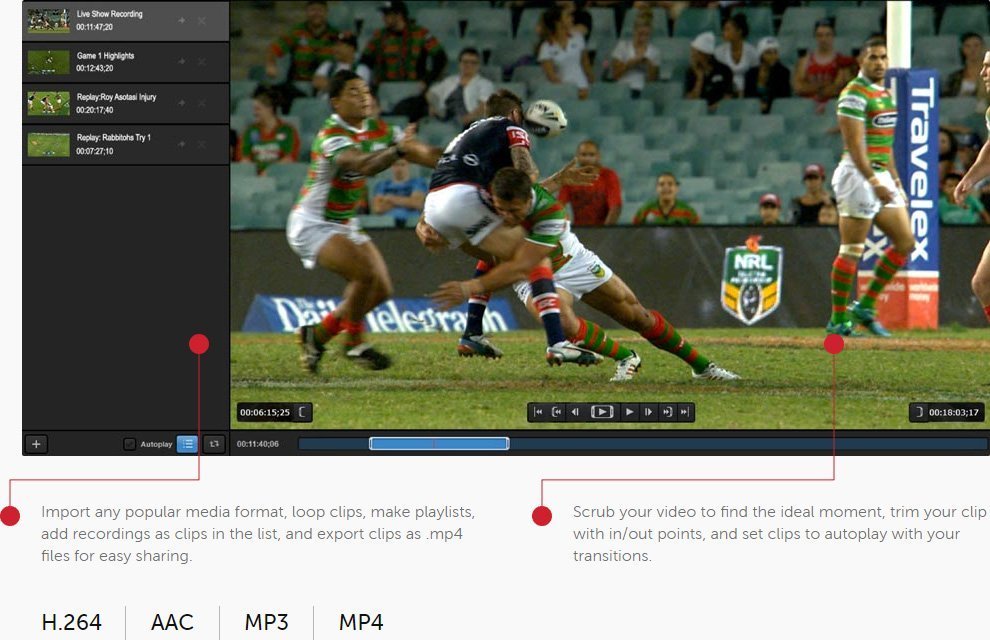 ---
---
---
Multi-channel audio mixer for internal and external audio sources, outputs, stream and headphones.
Video switcher follow feature with audio crossfade support when fading two video sources.
Supports grouping of multiple audio channels
Individual audio channel filters, including Limiter, Compressor, Equalizer, and Noise Gate
---
---
---
Live streaming Interviews Using Only a Browser
Remote guests can join your stream using only a URL in Chrome.
---
---
---
End to end 4K multi-bitrate streaming with Livestream and YouTube.
---
---
---
Virtual Camera Crop from 4K
Create virtual cameras from any single camera input. Ideal for 4K inputs when streaming in 1080p or 720p. Eased camera moves, cuts, and presets supported.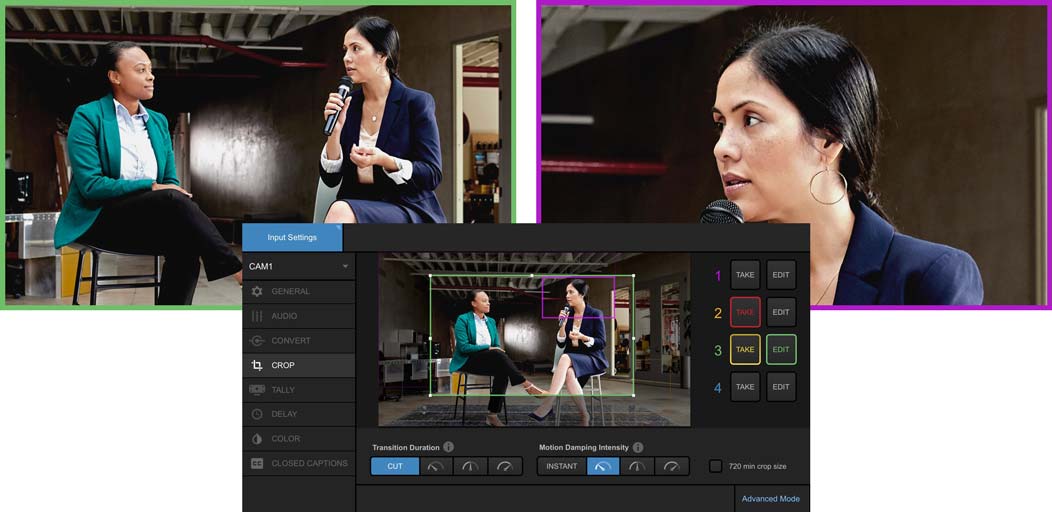 ---
---
Log into Studio with your Vimeo account, and enable cloud simulcasting with Vimeo.
With Vimeo Livestream Studio streaming, appliance users can subscribe directly with Vimeo to use the all-in-one livestreaming solution subscription platform to do live or post ISO recording streaming.
---
---
Adjust your camera's color settings to get the best quality possible, and unify the look for multi-camera productions, by dialing in the RGB, brightness, saturation, contrast, and more.

---
---
---
Simplified user experience mode designed for beginners or users who want a cleaner interface
---
---
---
---
Studio One products:
Intel QuickSync for stream encoding and ISO recording
Studio HD550 and HD51 products:
NVIDIA NVENC for stream encoding and ISO recording
Support for NVIDIA NVDEC for decoding of video inputs
Stream over multiple Ethernet, Wi-Fi or 4G/LTE network connections, increasing your bandwidth while also allowing you to create network redundancy.
Send a stream from a third-party encoder via RTMP directly to Studio and bring that stream in as a source.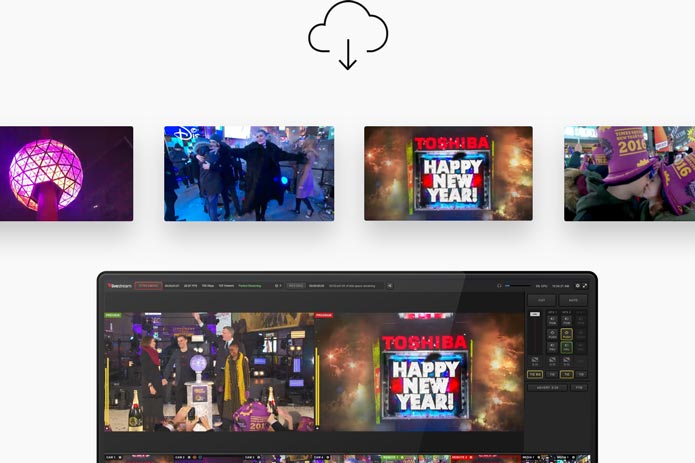 Add tally lights to your studio cameras using metaSETZ tally light controllers with native support for Livestream Studio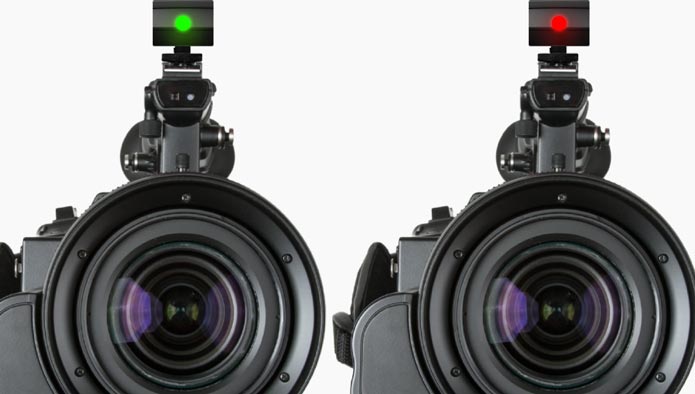 Import video files from Dropbox directly into your Media Player bin. Save and receive Studio project files to and from Dropbox.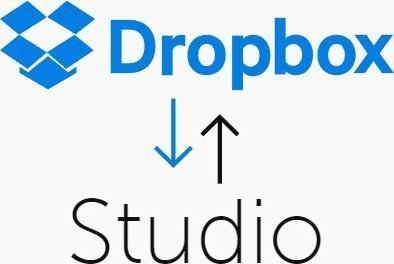 Real-Time Format Conversion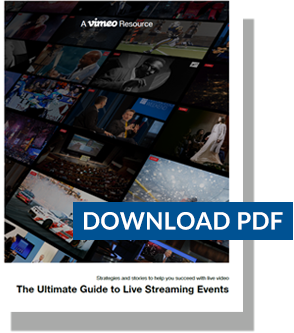 Ultimate Guide to Live Streaming
Strategies and stories to help you succeed with live video.
This guide is intended to help organizations from every industry to create immersive, meaningful connections with their audience, no matter who (or where) they are. From massive conference keynotes, to intimate fireside chats, businesses of all sizes are diving in to – and benefiting from – a live video strategy.
STREAMING A ZOOM MEETING WITH LIVESTREAM STUDIO APPLIANCES
Live video truly is the best option, next to face-to-face interaction, to make sure that your people feel like they are 'in the know' in an increasingly digital world. To have an integrated Zoom conference and live video together, consider NextComputing's Vimeo Livestream Studio professional end point appliances which make Professional Live Video Easy. Combined with Vimeo's streaming platform and gateway to other platforms including Facebook Live, Twitch, and YouTube, you now have an all-in-one solution for keeping everyone connected.
Click here to learn how to stream a Zoom meeting using Livestream Studio appliances
NEXTCOMPUTING AND VIMEO CREATE – PROFESSIONAL LIVE VIDEO STREAMING MADE EASY
NextComputing's line of Livestream Studio appliances for live video streaming and ISO recording, and Vimeo's newly announced Vimeo Create tool, make professional live video streaming a viable solution for any business.